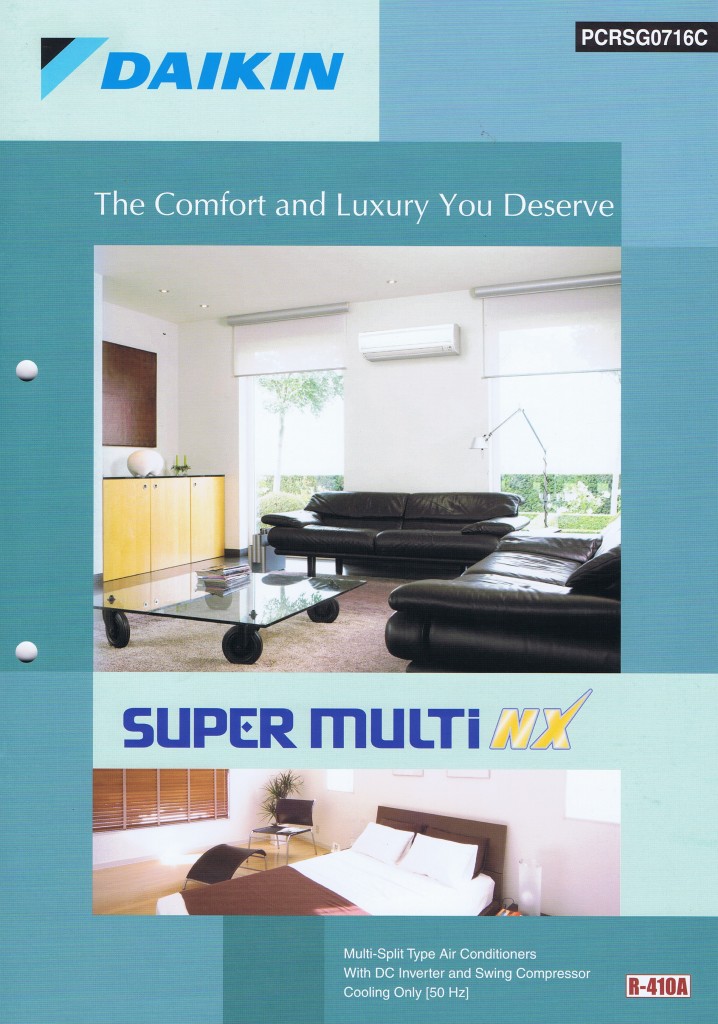 The Daikin Aircon Super Multi NX lets you build a highly efficient multi-room air conditioning system by connecting up to five indoor units to a single outdoor unit. The series includes a wide variety of indoor units,so it is easy to select a model that blends in unobtrusively and allows you to create a decor that match your personality. A single compact outdoor unit allows you to make more efficient use of available space in the installation location,such as a balcony.The individual indoor units in different rooms – the living room,study and bedrooms. For example can be controlled independently to match your family lifestyle. The Daikin Super Multi NX makes your home more comfortable and stylish at the same time.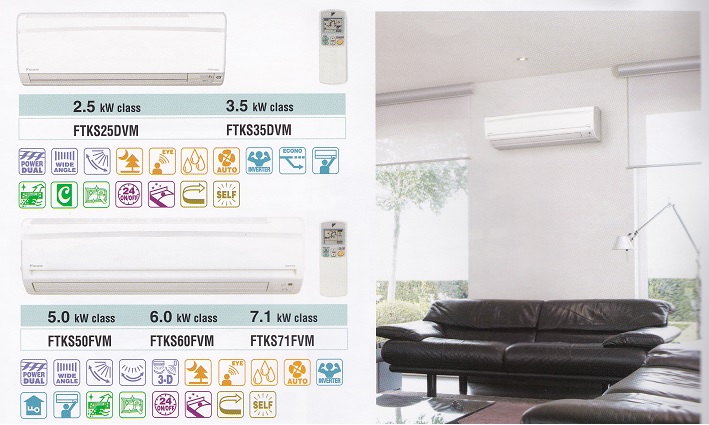 In 1969, Daikin developed the first multi room air conditioning system in Japan that needed just one outdoor unit. Over the ensuing 40 years, Daikin has built an enviable reputation with the constant progress of its technology. Daikin Aircon Super Multi NX requires only a single outdoor unit to maintain pleasant comfort in up to five rooms. Where outdoor unit installation space is limited,it is the ideal choice. Daikin Air conditioner settings for each room can be controlled individually to suit the preference of each person. While optimising personal comfort, Daikin Super Multi NX aircon use dc inverter technology to reduce energy waste.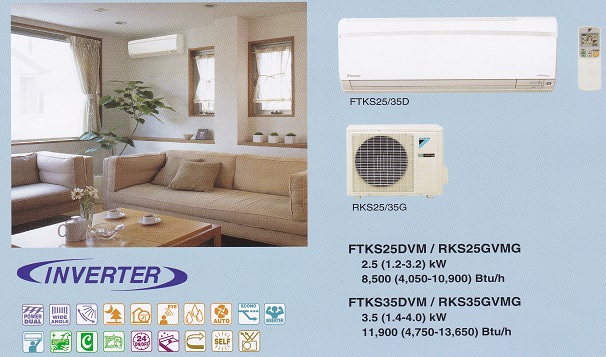 All the Daikin Super Multi NX Aircon (R-410A) models have earned the singapore energy label for household electrical appliances.
Daikin Aircon Energy-saving technology
1) Daikin Swing Compressor
Thanks to daikin aircon smooth rotation,the swing compressor decrease friction and vibration. Daikin Aircon also prevents the leakage of refrigerant gas during compression. These advantages provide quiet and efficient operation.
2) Daikin Reluctance DC Motor
Daikin Aircon DC Inverter Models are equipped with the reluctance dc motor for compressor. The reluctance dc motor uses 2 different types of torque,neodymium magnet and reluctance torque. This daikin motor can save energy because it generates more power with a smaller electric power than an AC or conventional DC motor.
3) Daikin Quiet Operation
A quiet indoor unit is important for your personal comfort. Daikin Aircon offers the quiet sound level of 22db during indoor unit quiet operation of FTKS25D.
4) Daikin Intelligent Eye
Daikin Aircon Intelligent Eye with its infrared sensor automatically controls air conditioner operation according to human movement in a room. When there is no movement,it adjust the temperature by 2 degree Celsius for energy savings.
5) Daikin Econo Mode
Daikin Aircon Econo mode is a function that reduces the maximum running current and the maximum power consumption of the outdoor unit to the rated values. This mode is useful for preventing circuit breakers from being overloaded by the use of multiple air conditioners and other electrical devices. The function is easily activated from the remote controller by pushing the ECONO button.
6) Daikin Inverter Powerful Operation
Daikin Aircon Inverter Powerful Operation boots cooling performance for a 20 minute period. This is convenient both when you first turn on your air conditioner and when you want to quickly change the temperature during operation

Check out our Daikin Aircon Promotion here!