In hot and humid Singapore, it is understandable that for many of us, installing aircons in our homes has become a 'need' instead of a 'want'.  But aircon units can be very costly and they incur a substantial amount of maintenance fees, especially if you use them regularly. Unfortunately, these are the costs that we have to pay for the comfort we get. When it comes to reducing these costs, other than finding aircons that have the lowest energy consumption to keep electricity bills low, you can also explore ongoing aircon promotions that allow you to purchase that ideal aircon at an affordable rate.
At Cool World Aircon, we want to keep your expenses low. Whether you are a new homeowner who just spent tens of thousands of dollars on renovation work or someone who simply wants to replace an old aircon, you can enjoy the perks of our current aircon promotions.
Our promotions apply to big brands like:
Mitsubishi
Panasonic
Mitsubishi Heavy Industries
Toshiba
And many more!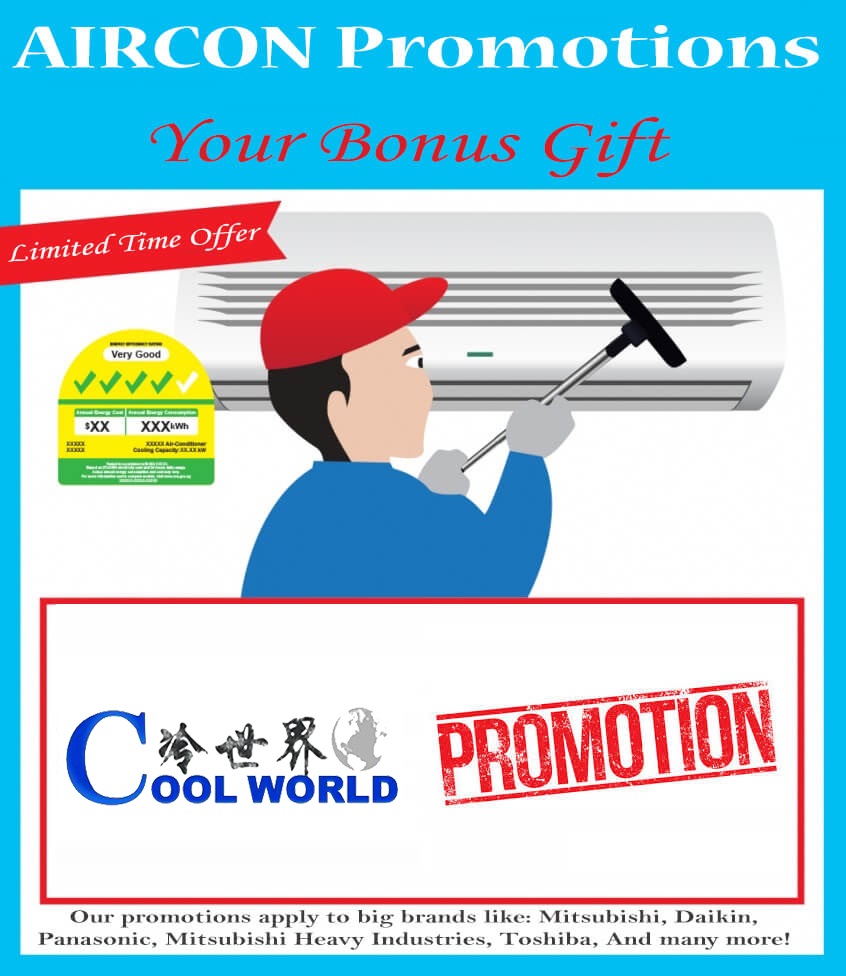 Aircons from these brands are renowned for their quality in delivering extra comfort into your life. However, the price may be one thing, and quality is an entirely different thing altogether. Our team at Cool World Aircon want our customers to get the best value out of their purchase. Therefore, in conjunction with these promotions, we continue to deliver our brand promise of providing the best aircon installation material and craftsmanship to our customers to ensure that their aircons are in its optimal state.
When it comes to purchasing these big-ticket products for our homes, we would intuitively reach out to credible retailers. After all, you deserve the finest of both quality and service guarantee. Cool World Aircon has been around for over 8 years in Singapore, and our aircon promotions have provided quality products to both our residential and commercial clients within their budgets. Our commitment to meeting our clients' needs has helped us to form long-lasting relationships even after project completion.
Apart from aircon promotions, deals are also available for other services which include aircon installation, servicing and repairs. Thus, stay tuned to this space where we update the latest promotions for our products and services.
If you require assistance in buying a suitable aircon unit for your residential/commercial needs, contact us today for a FREE aircon site survey and we will get in touch with you shortly. Also, do check out our current Daikin Aircon promotion here!